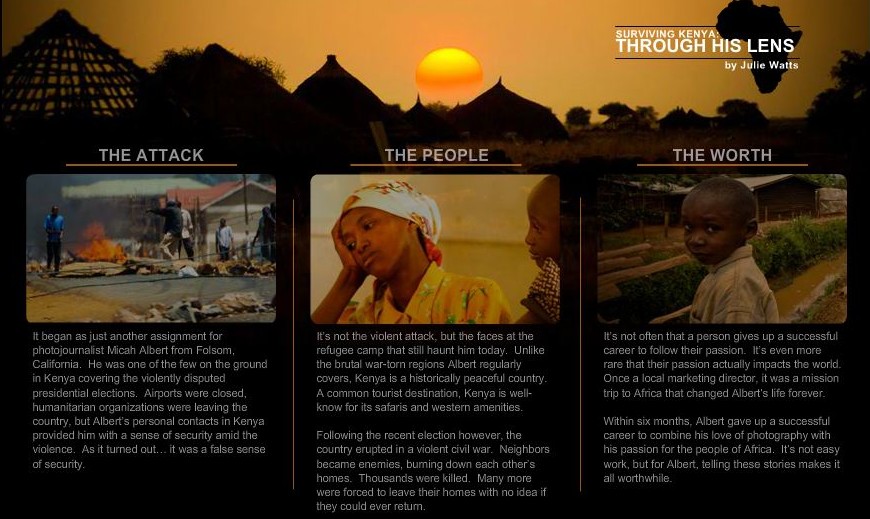 Click here to enter the interactive web story produced by Julie Watts – "Surviving Kenya: Through His Lens."
---
With a master's degree in online journalism, Julie enjoys turning compelling broadcast stories into interactive online experiences. These provide an outlet for news consumers to explore the narrative beyond the traditional television piece.
"Surviving Kenya: Through His Lens" (above) began as a broadcast story during the deadly 2007 Kenya Elections. Julie then used interactive media to expand the story online. Her work on this project earned her the first ever Multi-Media Emmy Award.
Julie is also an avid blogger. Her NewsMom blog on CBSSF.com offers a unique perspective on the issues facing Bay Area parents. Julie chronicles how she uses the knowledge, skills and resources she's developed as a journalist to navigate life as a mom.
Outside of work, Julie is the founder of NewsMom.com.
In a world of pay-for-play mommy blogs and un-vetted parenting message boards, Julie discovered a vacuum of unbiased, independent, multi-sourced content on topics related to parenting.
NewsMom.com is a resource for parents to access trustworthy news and information that is relevant to them.
It is also an outlet for journalists to share their relevant research and reports with a wider audience of parents that they wouldn't otherwise reach.
[See "Founder / Managing Editor" for details.]
Additional Web Skills
● Web Design: Extensive experience with Photoshop, WordPress, Genesis Customization and NetSol Image Cafe.
● Front End Development: Familiarity with HTML, PHP, CSS, Light JavaScript, Anvato and World Now Player.
● Miscellaneous Expertise: Blogging, SEO, project management and targeted content distribution via social media.